Post and Courier
1/12/2022
Link

Herb Partlow, a public relations director with BDG-CPAs and vice chair of the Charleston Housing Authority Board. Provided
After reading the Jan. 4 editorial, "As one housing innovator retires, Charleston must keep innovating," I want to provide additional information on the transition in leadership at the Charleston Housing Authority.
Don Cameron is an icon within the public housing industry. I often refer to the former president of the National Association of Housing and Redevelopment Officials as a walking institution.
He is well-respected by public housing officials throughout the United States.
Don has done an excellent job in leading this public housing authority for over more than 40 years. And he has been an innovator, but the editorial might have sown some seeds of doubt about the leadership moving forward. We have a new CEO and will have a new board chairman effective this month with the recent retirements of Mr. Cameron and 21-year commissioner Edward Kronsberg.
Art Milligan took over as CEO on Jan. 1 after serving for the past year as chief operating officer. He has more than 30 years of experience leading public housing authorities over the span of his career.
He has served as executive director for such authorities in Tampa, Winston-Salem, N.C., and Rocky Mount, N.C. He also was a professional consultant serving as the interim executive director of the New Orleans Housing Authority immediately after Hurricane Katrina.
Mr. Milligan is a very experienced and capable housing industry professional.
Another important aspect regarding his selection as the new CEO is that he and Mr. Cameron have a 25-plus-year-long relationship, and Mr. Cameron recommended Mr. Milligan for the chief operating officer job.
While serving on the board's selection committee, I and other members had ample opportunity to fully vet Mr. Milligan, and we all concurred, including Mr. Cameron, that he was the right person for the job.
After Mr. Cameron announced his retirement, he told me that he was comfortable with this decision at this time, because he believed we had the right people in place to continue the mission of the Housing Authority.
We also filled another key position with the hiring of a new development director who will oversee our rental assistance demonstration projects that The Post and Courier has reported on numerous times.
I have served on several boards within the Charleston area, and the composition of the Charleston Housing Authority Board is outstanding. We have an intelligent and diverse group of individuals who bring a plethora of skills and experience to the table, and that is what is necessary to have an effective leadership body.
We have a commissioner with a Class 5 development license — the highest S.C. designation. We have a commissioner who is an attorney and another with specific experience in affordable housing funding and banking. We have a commissioner with a background in academia, and I bring technology, corporate and human resources experience to the table. We also have a resident commissioner who lives in one of our properties so we get that "real world" perspective.
This is an outstanding board, and we are prepared to lead. While Don is now retired, he has made himself available to us for consultation as needed. This provides us with a valuable resource and will help us to provide some continuity as we move forward.
Please rest assured that the Charleston Housing Authority is in good hands and will continue to lead and innovate as we navigate the many challenges ahead of us in fulfilling the goal of creating and providing more affordable housing for the city.
Herbert F. Partlow is interim chairman of the Charleston Housing Authority Board of Commissioners.
Post and Courier
By the editorial staff
12/7/2021
Link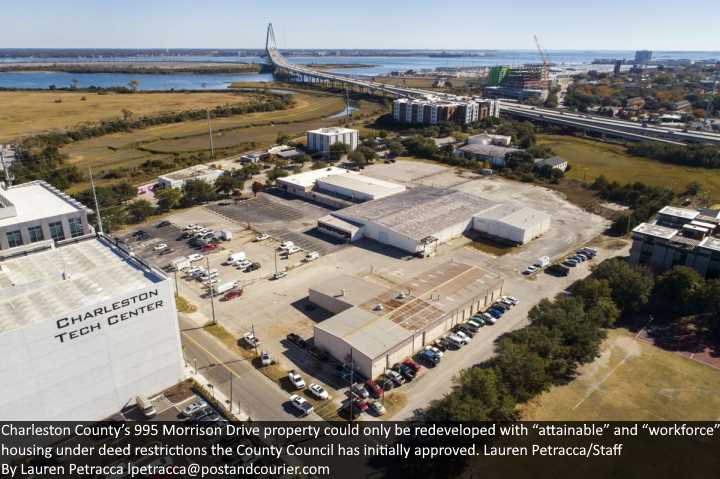 There's no question our area needs more affordable housing, particularly in downtown Charleston, one of our region's major employment centers and one of the easiest places to get by without the added expense of owning a car. It's also where land is both pricey and scarce.
So we understand why Charleston County Council is interested in using its underdeveloped 6.5 acres at 995 Morrison Drive to create more affordable housing; what's important is getting the details right. And while County Council voted 5-4 last week to place a deed restriction that requires affordable housing on the entire 6.5-acre site, its work has only just begun.
That's because we really have no clue what this vote will actually mean.
What will be the language of this deed restriction? How many affordable units might it require? How will the county define "affordable" or "attainable" in the deed restriction? How long would those units have to remain affordable? Beyond those units, however many there are, how much of the property would be developable for other uses? And, of course, how much money is the county willing to sacrifice to place affordable units there, and what does that work out to per unit?
The answers are not only an important part of the deal; they are the deal. We agree with Councilman Herb Sass who called the vote "a useless exercise."
To its credit, Charleston County hired an affordable housing consultant after it tried and failed to persuade voters to raise their property taxes last year to create a special affordable housing fund — an effort that was doomed by the same sort of vagueness that undermines our confidence in this newest endeavor. The consultant is being asked to recommend what specifically the Morrison Drive deed restriction should look like. Why the concept was rushed to an initial vote last week — months before the consultant is expected to report and possibly clarify the details — is a bit of a head-scratcher.
While speeding toward the deed restriction, some mocked the Charleston Housing Authority's "laughable" — as Councilman Brantley Moody called it — offer of $1 million for one acre of the parcel. But it looks to us as though such a sale likely would lead to more affordable housing at this location faster than anything the county is considering, given the authority's proven track record, which includes the impressive Grace Homes project recently completed less than a mile away. And the big idea is similar: The county accepts less money for the land in exchange for assurances that affordable housing will be built there. Selling the entire parcel for something close to its estimated $30 million value also could dramatically advance affordable housing, if the proceeds are designated for a new housing trust fund.
So while the council's Democrats might favor the deed restriction, with so little information about why there is a need to rush it, we share the concerns of Councilwoman Jenny Honeycutt, who fears that the county might be repeating its $33 million debacle of a public-private deal to renovate the former Charleston Naval Hospital that went bad. "This is a cooked-up, backroom deal that has been brought to us by who knows who," she said, "and it is really similar to how I think the whole Naval Hospital turned out, and it is scary to me to think where this could go."
There's an easy way to dispel this criticism and skepticism: That's by holding discussions and negotiations in public, and well enough in advance of any vote to ensure that the public is able to respond to anything that does in fact look like a sweetheart deal, or even just a bad deal.
As we said when this idea was floated publicly earlier this fall, it's essential to scrutinize the numbers — which will be shaped by the deed restriction, among other factors — to see whether the county will be getting enough new affordable housing to justify the money the county will lose by placing a deed restriction on the property. Those trying to defend the county's plan simply by saying affordable housing is good and needed on the peninsula are both right and wrong.
Ultimately, it's the details — not the concept — that will define success here. (In the case of the Naval Hospital, the concept of using a private developer to help create county office space was a good one, but failure to tend to the details caused it to go south in a dramatic and costly way.)
Those details must be worked out — in open session — if County Council has any hope of generating more public trust that it actually knows what it's doing here.
So what ultimately matters is not last week's vote but the upcoming work to flesh out the details of any deed restriction or affordable housing deal. We agree with Councilman Rob Wehrman, who likened last week's vote to passing a resolution, which is nonbinding, has no force of law and can be reversed. "Whether it's a substantive step or not, hopefully it leads to those," he said.
We believe the best chance of that happening will be if County Council takes its future steps in public, not behind closed doors.
From The Post and Courier:
Commentary: Designate land at 995 Morrison for affordable housing before it's too late | Commentary | postandcourier.com
Excerpt:
Gentrification has driven African Americans out of their neighborhoods, and there is an urgent, if not dire, need for affordable and workforce housing, yet a recent editorial on 995 Morrison Drive urged Charleston County Council to move slowly on designating the property for exactly that purpose.
The Sept. 28 editorial cites two illogical reasons why council should proceed slowly. First, it cites the need for more financial information because of a county land deal that went bad 20 years ago. Second, it cites the need to wait until a draft is presented of a new county affordable housing plan. The fact is that council was not considering a specific deal but rather a deed restriction, a bold and visionary move in light of the urgent need for affordable housing in an ever-shrinking landscape.
The editorial argues against rushing to embrace Council Chairman Teddie Pryor's idea by saying we need to fully understand the benefits of any project involving taxpayer dollars or assets, but that's not the proposal that was being presented. What was actually discussed was the idea of designating the property for affordable and workforce housing in light of the recent housing trends that have been well-documented in The Post and Courier.
From the Post and Courier:
https://www.postandcourier.com/news/charleston-housing-authority-offers-county-1m-for-an-acre-of-land-on-peninsula/article_96caa784-5179-11ec-9ebb-43710efc5439.html
Excerpt:
"The city of Charleston's housing authority is offering $1 million for an acre of county-owned land on the upper peninsula where it hopes to build affordable housing for people with low to moderate incomes.
"The county has been talking about affordable housing," said Don Cameron, director of the housing authority. "The county has this property and it's a great opportunity for the housing authority."
The initial response Nov. 30 from a number of County Council members was less than enthusiastic.
The county earlier sold 1.5 acres for more than $5 million, and for months County Council has been debating whether to use the remaining land for affordable housing or sell it for the highest price possible."
Post and Courier
By David Slade dslade@postandcourier.com
8/17/2021
Link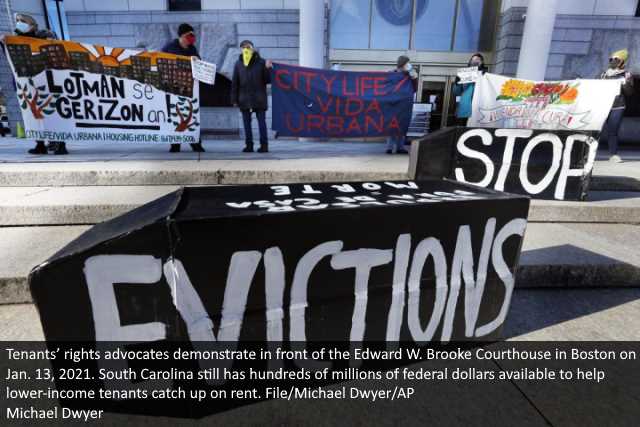 In South Carolina and across the nation, efforts to put billions of dollars in rent relief into the hands of landlords to keep tenants from being evicted have been moving at a snail's pace.
The federal government approved more than $45 billion to prevent lower-income renters impacted financially by the COVID-19 pandemic from being evicted or having their utilities shut off due to nonpayment. States, large cities and counties began receiving the money in February, but by the end of June only about $3 billion had been distributed.
In South Carolina, it's been going even slower.
In the largest state program, covering 39 of 46 counties, less than 3.5 percent of the money had been distributed by mid-August.
The state authority SC Housing received $271.8 million to help renters in the 39 counties not large enough to directly receive federal funds, and launched a program called SC Stay Plus in May. So far it's distributed about $9 million, helping 2,205 households.
Now, SC Housing has reduced paperwork requirements and expanded outreach efforts, hoping to get more applicants and process applications more quickly. Many renters won't have to prove much more than their identities, and that they are renters; the rest of the requirements will rely on sworn statements rather than documentation. That could help the agency process about 7,500 applications that didn't have all the documentation required initially.
"There's always a tension between being a good steward of taxpayer funds and getting people the help they need," said SC Housing spokesman Chris Winston. "We want people to come apply and get through the process."
SC Housing has decided that renters in 196 ZIP codes — nearly half the ZIP codes in the state — will no longer have to document that their incomes are low enough to qualify. They will also not have to document that they are in an unstable housing situation, or suffered financially due to the pandemic. Instead, they will need to sign a form stating that's the case under penalty of perjury, Winston said.
SC Housing hasn't publicized the list of ZIP codes, but tenants who live in those areas will find fewer documentation requirements if they apply for help.
Under federal rules, renters must have incomes no higher than 80 percent of the median income for the area where they live, depending on household size, in order to qualify. That means, for example, that a single person in Charleston County could earn up to $46,000 and qualify, while a single person in less-affluent Bamberg County could earn no more than $29,350.
"What we came up with that really helped clear things up was we identified 196 ZIP codes where the average income for renters is below, or well below, that 80 percent AMI (area median income)," Winston said. "If you live in those ZIP codes and you are renting, there's an overwhelming chance that you qualify."
The state's seven largest counties — Anderson, Berkeley, Charleston, Greenville, Horry, Richland and Spartanburg — received direct federal funding and are running their own rent and utility assistance programs. Residents of those counties would contact their county directly, not SC Housing.
The federal funds can pay up to 12 months of back rent and utilities, with the money going directly to landlords and utility companies. Tenants must apply, but landlords are also involved in the application process.
For example, to get the federal money from SC Housing, tenants need to show that they have a rental agreement and landlords have to sign up as state vendors and provide a tax identification number. Winston said that's a challenge for some tenants and landlords who have informal rental arrangements.
The relatively small number of applicants has also prompted SC Housing to step up outreach and support efforts. The agency has added staff to its call center and extended call center hours.
Applicants can now call SC Housing's call center at 800-476-0412 from 8 a.m. to 9 p.m.
Advertising and social media efforts are also being increased by SC Housing, utility companies are helping to spread the word, and SC Housing is adding more in-person assistance events at public libraries.
In-person support is being offered at libraries in Beaufort County (331 Scott St.), Pickens County (304 Biltmore Road, Easley) and Lancaster County (313 S. White St.) Monday through Saturday.
Charleston County also used public libraries to offer support and assistance to rent relief applicants, and by early August had approved assistance for 2,075 households, according to the county. Spokeswoman Kelsey Barlow said the county has so far committed about $10 million of its federal funding — about as much as SC Housing has approved to help residents of 39 counties.
For rent and utility assistance in Charleston County, call 855-452-5374 Monday through Friday from 8:30 a.m. to 4:30 p.m.
Reach David Slade at 843-937-5552. Follow him on Twitter @DSladeNews.
AFTER 50 YEARS OF PUBLIC SERVICE, HOUSING AUTHORITY CEO LEAVES BEHIND TREMENDOUS LEGACY
CHARLESTON, S.C. (August 4, 2021) – The Housing Authority of the City of Charleston is announcing the retirement of President & Chief Executive Officer Donald Cameron. Cameron joined the Authority in 1975 and was promoted to CEO in 1980. Cameron will retire in December 2021 and serve in an advisory capacity through 2022.
Cameron announced his retirement to the Authority's Board of Commissioners and highlighted the organization's tremendous progress in the decades since he joined. During Cameron's tenure, the Authority, with guidance from the Board, underwent a top-to-bottom restructuring, added thousands of residential units for low-income residents, and placed several properties on the National Register of Historic Places. In addition, the organization has been recognized through awards and publications for its work in public housing and most recently began the process to renovate existing properties and expand capacity through the Rental Assistance Demonstration (RAD) program through HUD.
"Don Cameron has dedicated the last 47 years to transforming our Housing Authority from simply a provider of safe, sanitary, and affordable housing, to a nationally-recognized creator of accessible, attractive, and energy-efficient rental homes for our citizens of low and moderate income," said Housing Authority Board Chair Edward Kronsberg. "Unassuming and modest, Don has worked closely with Mayors Riley and Tecklenburg, and together, the City and Housing Authority, have been innovative leaders in establishing, renovating, and maintaining dozens of affordable rental home developments. The Housing Authority, its residents and staff, as well as the City and all its citizens, have been fortunate to have benefited from the unselfish brilliance of Don Cameron. He will be missed, but Don has left us in very competent and well-trained hands."
"With our new Chief Operating Officer and Director of Development, we are in a good place to step up our current efforts like RAD but those two positions are also key to the future of the Authority," said Cameron. "I chose to retire now because we have the right people in place to continue our mission."
Cameron will be succeeded by Chief Operating Officer Arthur Milligan who joined the Authority in April 2021 and received unanimous Board approval as the new CEO. Milligan, a Goose Creek native and Citadel graduate, has been an agent of positive change and is known for his personal outreach to Authority residents. His past experience includes serving in leadership roles for housing authorities in Rocky Mount and Winston-Salem, N.C., Tampa, F.L., and New Orleans, L.A., and leading private sector businesses.
"I'm honored to be given the opportunity to build on the great legacy that Don Cameron has created in providing decent, safe, sanitary and affordable housing to low and moderate income citizens of the City of Charleston," said Milligan. "These are very big shoes to fill, but with the ongoing counsel of Don and our Board of Commissioners, I'm excited about the opportunities that lie ahead for our organization as we continue to serve our community."
ABOUT HOUSING AUTHORITY OF THE CITY OF CHARLESTON:
The Housing Authority of the City of Charleston was organized on May 5, 1935 and has the mission of providing decent, safe, sanitary, and affordable housing to low and moderate income citizens of the City of Charleston. The 107 employees of the Authority provide the day-to-day operational support for 1,407 public housing households located throughout the City and over 1,593 Housing Choice Voucher Program participants living in private accommodations.
 ###
MEDIA CONTACT
Daniel Monroe
Rawle Murdy
(843) 422-0682
dmonroe@rawlemurdy.com 
STATEMENT FROM DONALD J. CAMERON, PRESIDENT & CEO, CITY OF CHARLESTON HOUSING AUTHORITY ON SHOOTING THAT OCCURRED AT HANOVER STREET, JULY 28, 2021.
I JOIN MAYOR TECKLENBURG, COUNCILMEMBER MITCHELL, AND CHIEF REYNOLDS IN CONDEMNING THE VIOLENCE THAT OCCURRED ON HANOVER STREET, LAST EVENING.
VIOLENCE HAS NO PLACE IN OUR CITY AND OUR COMMUNITY, AND IT'S NOT SOMETHING THAT OUR RESIDENTS SHOULD HAVE TO TOLERATE. AS THE INVESTIGATION CONTINUES WE WILL DO EVERYTHING IN OUR POWER TO PROVIDE A SAFE ENVIRONMENT FOR OUR RESIDENTS.
IF YOU HAVE ANY INFORMATION TO ASSIST IN THE ONGOING INVESTIGATION, WE ENCOURAGE RESIDENTS TO CALL/TEXT OR EMAIL THE CITY OF CHARLESTON POLICE DEPARTMENT.
Post and Courier
7/16/2021
By Gregory Yee gyee@postandcourier.com
Link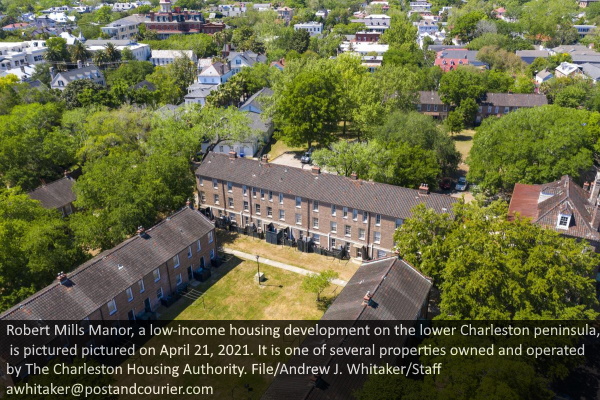 Public housing officials in Charleston are raising entry level pay for agency employees to $15 per hour — a move they say is aimed at attracting and retaining employees.
In an announcement on July 15, Charleston Housing Authority CEO Don Cameron said his agency wants to make sure every employee makes a living wage and that the housing authority has also raised pay for all of its hourly employees.
"Recruitment is a challenge and to be competitive in the marketplace, the housing authority has raised all of its hourly pay rates by 6 percent," according to a statement by Cameron.
He and his staff hope the higher pay, combined with South Carolina's health and retirement benefits, will attract and retain the kinds of employees the housing authority needs to be successful, according to the statement.
In addition to investing in personnel, Cameron said the housing authority is moving forward with plans to renovate or replace all of its existing housing units, bringing its current inventory of 1,400 units to 2,200 to 2,400 units over the next decade.
The housing authority plans to use tax credits and other incentives to attract private developers, according to the statement.
New buildings will blend public housing with affordable housing with the goal of giving Charleston's hospitality, health care and other workers the ability to live closer to where they work.
Reach Gregory Yee at 843-323-9175. Follow him on Twitter @GregoryYYee.
Post and Courier
7-4-2021
Link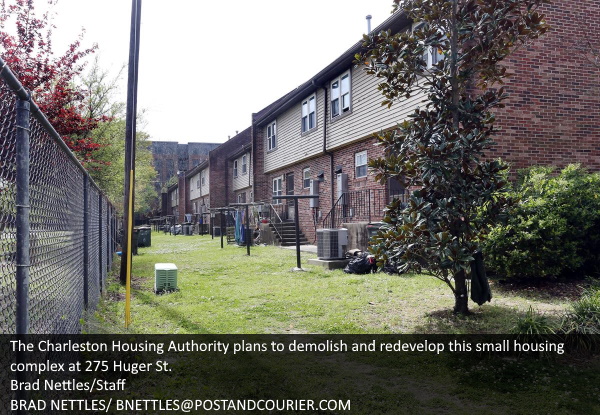 If you want to see the future of affordable housing in Charleston, mosey up to Huger Street.
The Meeting Street Lofts fill an entire city block, and the complex is pretty typical of today's upper peninsula: Five floors of apartments at varying price points, perched atop ground-floor retail space.
That's an urban planner's mixed-use dream, but the true innovation — and perhaps salvation for mere mortals who want to live downtown — is going up across the street.
This fall, the Charleston Housing Authority will tear down the 12 mid-century, brick-and-siding townhomes it manages at 275 Huger and build a modern 85-unit development in its place.
The new development will still include 12 units of public housing, and current residents will have the first shot at them. But they'll be mixed in with 73 new apartments built and priced for workforce housing.
That means, by Charleston standards, affordable housing.
"It's getting harder to find a decent place to live that people can afford, and by creating more units we can serve more people," says Don Cameron, CEO of the housing authority. "We're changing to be more reflective of today's needs, re-imagining a system that's been around since 1935."
As The Post and Courier's David Slade reported, 275 Huger St. is just the beginning. The Charleston Housing Authority is going to renovate or replace all 56 of the properties it owns on the peninsula and in West Ashley, Daniel Island and even Mount Pleasant.
See, the Charleston Housing Authority has signed on to the U.S. Department of Housing and Urban Development's Rental Assistance Demonstration program, which Congress set up nearly a decade ago to renovate public housing using tax credits to attract private developers.
Which basically means the feds are trying to get out of the public housing business.
Cameron, who's been with the housing authority for 45 years, notes that the program is no longer a "demonstration" and his crew waited to see how well it worked in other cities. After watching the progress in Lexington, Kentucky, and Knoxville, Tennessee, as well as Greenville and Spartanburg, the authority took the leap.
Despite the private investments, the housing authority will maintain control of the properties — which provide more than 1,400 units of public housing. The upshot is the housing authority will add between 800 and 1,000 units of affordable housing in Charleston over the next decade … without cutting into the inventory of much-needed public housing.
That's not insignificant. One study suggests the city — where real estate prices are on the same trajectory as an Atlas rocket — will need more than 16,000 more affordable houses and apartments in the next 10 years.
This is one of the defining problems of the day. Right now, the county is debating — well, struggling — to find ways to increase the inventory of affordable housing, and the city of Charleston has dedicated more than $50 million to those efforts. That's significant, but what the housing authority has planned is a game-changer.
This gives the city's hospitality workers, and many others, options for living closer to work. That cuts down on traffic, and is an opportunity for the city to reasonably handle the sort of population density the peninsula saw a century ago.
But perhaps most importantly, Charleston Housing Authority's plan removes the stigma of public housing. The Section 8 housing at 275 Huger St. won't be segregated from the other units, it will be blended into the community — and, like their neighbors, those folks will live across the street from trendy and attractive places like Meeting Street Lofts.
City officials particularly like this because they'll tell you, from a public safety standpoint, the problem with crime isn't public housing — it's a concentration of poverty. Integrating the city's most vulnerable population into its trendiest new location is a good move, and it makes Charleston a safer place to live for everyone.
Cameron says that's the idea. Charleston Housing Authority isn't aiding and abetting gentrification, and is going to great lengths not to relocate its current residents to, say, North Charleston or Hanahan.
"People want to stay where they are," Cameron says. "This allows that."
The housing authority will save some of the more historic public housing developments by simply renovating them. But at places such as 275 Huger, there will be entirely new buildings that fit in with the current look of the upper peninsula. Basically, new Charleston is going to look a lot more like old Charleston.
That's exactly what we need to remain a living, breathing and diverse city … as opposed to a gated community.
Reach Brian Hicks at bhicks@postandcourier.com.