Post and Courier
6/30/2021
Link
By the editorial staff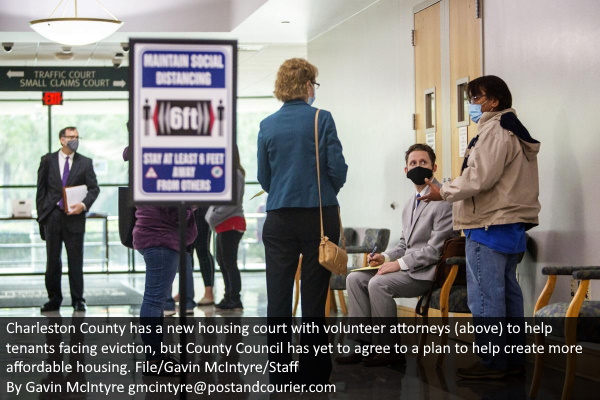 Two of Charleston County Council's newest members did not get their wish recently to spend $10 million of the county's $271 million budget toward a new affordable housing initiative, but the conversation should not stop there anymore than it should have stopped last fall, when county voters narrowly rejected a proposal that would have raised property taxes slightly to create a new housing fund.
We're pleased to see first-term council members Kylon Middleton and Rob Wehrman push for creating an affordable housing fund with as much as $10 million. If nothing else, it's an encouraging sign that county leaders remain focused on trying to address our region's worsening problem of too few affordable places to buy or rent. In short, there are many ways the county still can help, and we urge all council members to realize that this is a problem the private sector isn't going to solve on its own and remain open to new ideas.
As The Post and Courier's David Slade reports, the issue could be revived soon as County Council decides how to spend about $80 million in federal American Rescue Plan Act funds. And other council members have voiced other ideas, including Councilwoman Jenny Honeycutt, who suggested that large businesses, which often receive generous tax breaks when relocating in the county, could play a role. That's certainly worth pursuing, as would be a more general approach to business groups, some of whom, as Chairman Teddie Pryor noted, supported the county's proposal in last fall's referendum.
As we said after last November's vote, voters were not sending a message that they don't want the county to spend money to address affordable housing. (The tax would have added $24 to the bill on a $300,000 owner-occupied home and $36 to the bill for a $300,000 rental or commercial property.) They wanted a more specific plan on how the county would spend the money, and without it, they narrowly rejected the tax increase to help. That is not surprising given the county's costly missteps with plans to renovate the old Naval Hospital and to build a new recycling center.
It's important that the county keep at it. So we are encouraged that the county budget does include money to hire a consultant to flesh out a comprehensive affordable housing plan and $142,000 for a new director of community revitalization and housing affordability position. Interested consultants are supposed to apply by July 19, and county staff and County Council should move quickly after that to choose one so work can begin in earnest. We hope the new plan provides the necessary detail for how the money would be spent — one that could garner such broad support that County Council would feel comfortable enacting it even without placing the question on the ballot in 2022.
Specifically, the county needs to identify a partner that would manage the county's program; create guidelines or parameters for its partner as a road map, including how the program would address affordable rental units, home ownership and home repairs; and consider other steps the county should take in addition to providing financial help, such as zoning changes. The sooner those details emerge, the better.
Using some of the American Rescue Plan Act funds could be a helpful step; it would focus council members and staff to tackle the work and show council's seriousness, which in turn would send an important signal to other potential partners.
Charleston County government is not going to single-handedly solve our affordable housing problem — which only seems to be getting worse, with fresh news weekly about one piece of it or another — but no single local government is. No single business or business group is either. But that's no reason for the county to do nothing.
The county's RoadWise program, an almost two-decade-long effort to spend hundreds of millions of dollars building new roads and improving existing ones, is not solving our traffic and congestion problems on its own, but we all would be worse off without it. The county can play a similar, important role to help build more affordable housing at a small fraction of the cost it's spending on roads, but only if its leaders have the will.